Greetings from the Florida State University School of Music. I hope you will find this web site helpful in making a decision about your future musical education.
The Florida State University School of Music is proud of a long tradition of excellence. For more than eighty years FSU has offered a high level of professional education in music; it was one of the originators of the doctoral degree in music performance; and for over forty years it has been one of the most comprehensive and most respected music schools in the nation.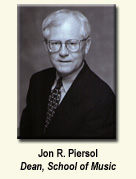 Florida State is proud to have produced such outstanding musicians as Ellen Taaffe Zwilich, first woman composer to be awarded the Pulitzer Prize in music, and Charles Rex, associate concertmaster of the New York Philharmonic. The School of Music has also educated thousands of outstanding school music teachers, college and university professors, music therapists, scholars, and other composers and performers.
Our rich heritage is important in providing us a certain perspective about quality and incentive to strive for continuing excellence. But the real test of our future is what we do for you, the future students who will grace our rehearsal halls, classrooms, and studios. We seek students, at all levels, who are dedicated to achieving the best for themselves in their professional preparation. We seek students who will contribute to the rich and diverse musical environment at Florida State. And we want students who will appreciate the warm and friendly personality of our school.
My colleagues and I will do everything we can to assist you in your pursuit of the best university and musical education, from helping you through the audition/admissions process to advising and assisting you in your career decisions. Please do not hesitate to call or write us with any questions or concerns you may have, because if you are serious about music and your future, we would like you to become part of the Florida State University School of Music.
Jon R. Piersol
Dean, School of Music